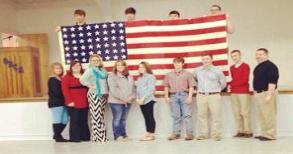 CHAPEL SERVICES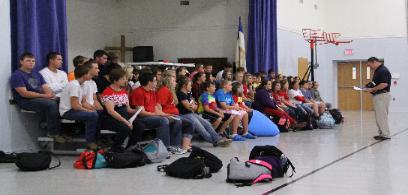 April 9, 2014


Flag Ceremony

For chapel services, Bro. Mel Stephens led the 9th grade
students in a Flag Ceremony. As an American flag was
appropriately folded, students informed the assembly as to
what each fold of the flag represented.

Those present were given the opportunity to view an

American flag from 1944
. This flag has only 48 stars
because at that time Alaska and Hawaii were not part of the
United States. Thanks to Mrs Dianne Gill for the use of the
flag which was given to her family in honor of her uncle who
fought in World War II.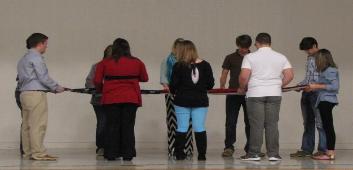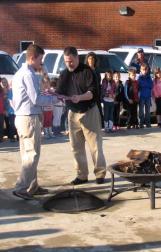 The assembly then witnessed a Flag Retiring ceremony held outside.

October 1, 2014

Philippians 2: 1 - 8 If there be therefore any consolation in Christ, if any comfort of love, if any fellowship of the
Spirit, if any bowels and mercies, Fulfill ye my joy, that ye be likeminded, having the same love, being of one accord,
of one mind. Let nothing be done through strife or vainglory; but in lowliness of mind let each esteem other better
than themsleves. Look not every man on his own things, but every man also on the things of others. let this mind be
in you, which was also in Christ Jesus: Who, being in the form of God, thought it not robbery to be equal with God:
But made himself of no reputation, and took upon him the form of a servant, and was made in the likeness of men: And
being found in fashion as a man, he humbled himself, and became obedient unto death, even the death of the cross.

Acts 11:26
(KJV) And when he had found him, he brought him unto Antioch. And it came to pass, that a whole year they assembled themselves
with the church, and taught much people. And the disciples were
called Christians
first in Antioch.

The word Christian is used 3 times in the Bible. Christian means
student of Christ
, not simply a follower. There is a difference in being saved,
and being a follower of God. We are children of God at salvation, but a Christian when we become disciples, disciple in His Word.
Scripture
references 1 John 3:1 and John 1:12.


What does Jesus want us to be? Matthew 28:19-20
Go ye therefore, and
teach
all nations, baptizing them in the name of the Father, and of the
Son, and of the Holy Ghost:
Teaching them to observe
all things
whatsoever I have commanded yo
u: and, lo, I am with you always, even unto
the end of the world. Amen.
Jesus tell us to teach, and to teach means to disciple.
November 14, 2014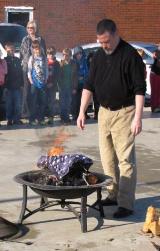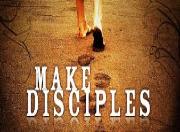 Philipians 2:14-16 (KJV) Do all things
without murmurings and disputings
: That ye
may be blameless and harmless
, the sons of God, without
rebuke, in the midst of a crooked and perverse nation, among whom ye shine as lights in the world; Holding forth the word of life; that I may rejoice
in the day of Christ, that I have not run in vain, neither laboured in vain.

January 21, 2015

1 John 1:1-4 That which was from the beginning, which we have heard, which we have seen with our eyes, which we have looked upon, and our hands have
handled, concerning the Word of life— the life was manifested, and we have seen, and bear witness, and declare to you that eternal life which was with the Father
and was manifested to us—that which we have seen and heard we declare to you, that you also may have fellowship with us; and truly our fellowship is with the
Father and with His Son Jesus Christ. And these things we write to you
that your joy may be full
.
Joy is not affected by your circumstances. Joy comes from your fellowship with the Father and the Son. Moving closer to God requires study and obedience.